Introducing PIVOT, your solution to creating interactive work environments. A combination of mobility & ergonomics along with uncompromised Scandinavian design brings you the first of its kind, true showroom quality, fully interactive touch table. PIVOT allows you the freedom to communicate interactively with your clientele as well as your colleagues.
The philosophy behind our Scandinavian engineered design is simplicity. By allowing the user immediate intuitive interaction through an interactive pen, or by simply touching the remarkably responsive multi touch screen, the need for a conventional and sluggish keyboard and mouse is eliminated, ultimately allowing the user the flexibility and resourcefulness in which to increase productivity.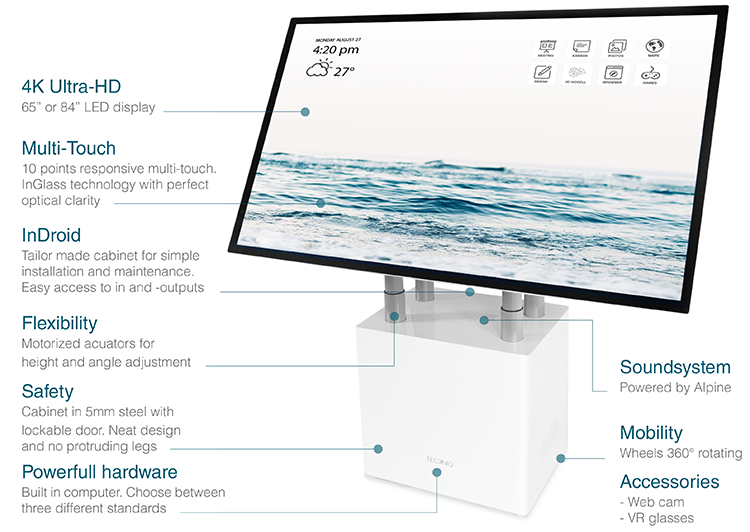 65"-84" 4K Ultra High Definition Multi Touch (4K UHD)
By utilizing the pressure sensitivity of InGlass™ technology, precision and feel becomes reality within the unparalleled picture quality of 4K UHD. InGlass™ technology allows the user to go straight from their smaller tablets to PIVOT while maintaining the same overall feel of responsiveness and hand gestures. By dividing up the screen into separate quadrants, multiple users can have their own workstation while interacting and working together. The size of the screen you select also determines the amount of users that can participate simultaneously.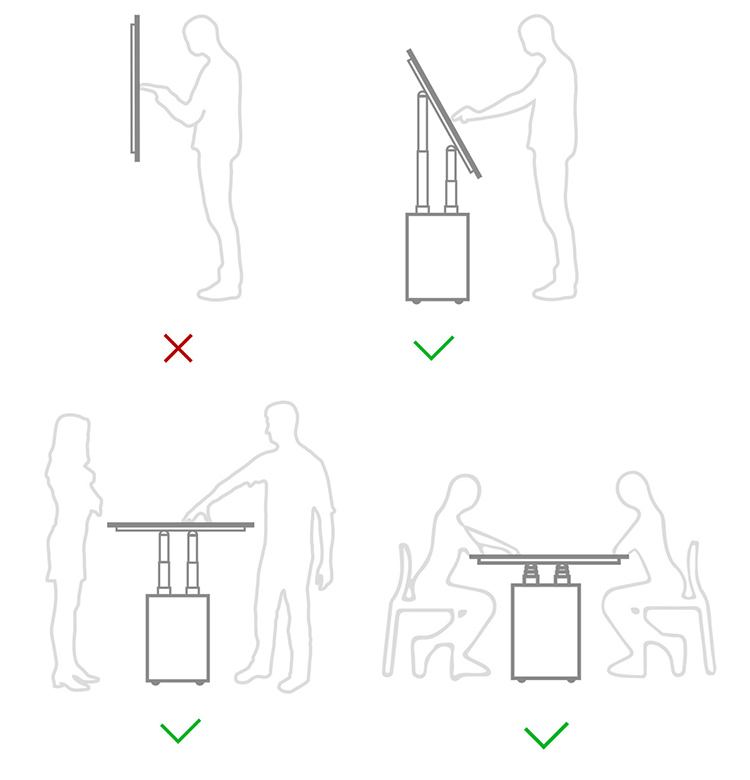 Ergonomic and Flexible
To minimize the strain on your back and shoulders, PIVOT allows the user to adjust the effective working height and angle of the touch table for a truly ergonomic work experience. With four recessed, low profile casters, PIVOT can be moved effortlessly around in your office or home allowing for a broader use area and eliminating the need for multiple units which ultimately means cost savings.
The flexibility and mobility of PIVOT makes it the perfect tool for team planning and small group training, as well as presentations for your special clientele.


Effortless User Experience
Through touch interaction, communication becomes faster and more intelligent. By allowing the participants to physically interact with any presentation, the users are not only able to more fully understand the information that is being delivered, it allows for full involvement from the clients/customers, enabling them to enhance and expand on presented materials that will directly benefit their needs.  Ultimately, this provides for a more creative and productive work environment.
Depending on your vision of how the PIVOT touch table will enhance your operations, there is a vast variety of touch software solutions to choose from. Our team will work with you directly, and assist you in selecting the best fit to suit your needs.  PIVOT will provide your business with simple solutions to effective and interactive work flow in document and graphics handling.
Let PIVOT exemplify the values and innovations that you and your business strive for.  Modern, effective, simple and solution based technology that will be sure to improve relationships with clients, customers and employees alike.  

Specified Models Based on Specific Needs
The PIVOT touch table was designed to suit all needs. Between the Basic, All-Round or Professional performance categories, there are options to suit all budgets and demands. Once we understand your intended use, our customer service department works with you to figure out what category of performance is required to fulfill your needs.
Support and maintenance
Customer service and support solutions were taken into consideration when designing the PIVOT touch table. Understanding the needs of the client led us to develop the Basic, All-Round and Professional performance categories. Within these three option, you as the client have the ability to build up your own version of hardware and support structures. By developing our patent pending In-droid, we now offer this revolutionary solution where the user only needs to remove one screw to detach the entire "guts of your hardware" and ship ip back to us. By using this new system, our clients will be back up and running within 24hrs regardless of the severity of the problem. All TECKNIQ™ resellers have spare In-droids in stock ready to ship.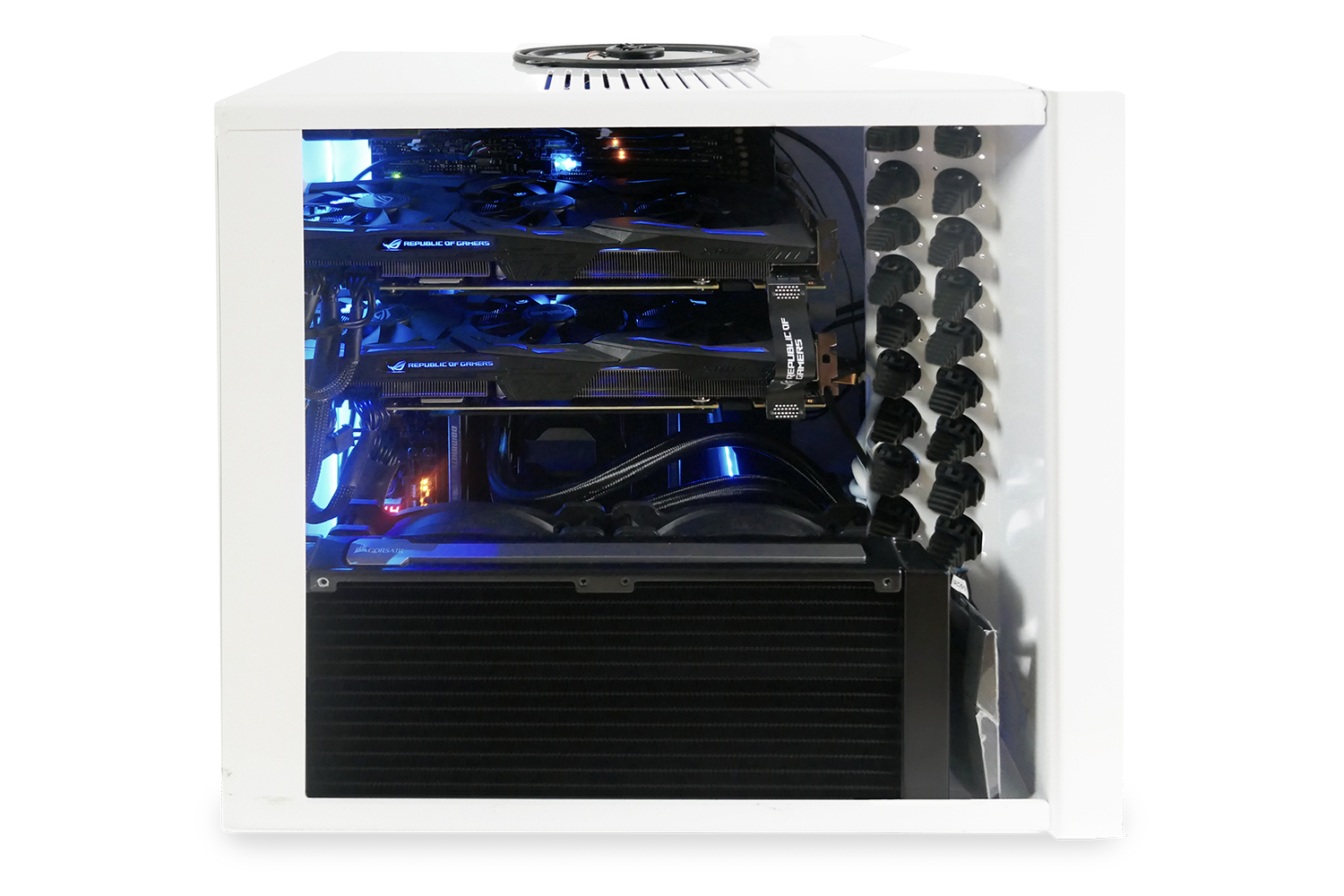 VR-ready hardware with massive power
PIVOT was designed to suit all needs. Between the Basic, All-Round or Professional categories, there is an option that will work for you regardless of budget and demand. By using the most advanced componentry available, all our models are designed to be VR and 4K Video Wall ready, making PIVOT the perfect multifunctional device for you.
– Intel i7 Core 6800K 3,4 Ghz
– Up to 2 x NVIDIA GeForce GTX 1080, 8Gb
– Up to 128 Gb DDR4 RAM
– Up to x 2 TB SSD V-Nand Harddrive
– Liquid CPU cooler
– Alpine internal speaker

Supports all OS
Everyone has differing preferences for Operating Systems. Regardless of your decision on OS, all PIVOT touch tables go through vigorous testing before leaving our warehouse to make sure the user gets a true plug and play experience. This is our guarantee to our customers and a standard practice for all products associated with the TECKNIQ™ brand.
Choose the color you desire
Choose from one of our standard colors, or put your own personal touch on the design by choosing your own.